How often do your deals fail because of a logistics problem? For example, due to the fact that it takes too much time to make calculations for the freight of the goods?
Much in this matter rests on the human factor. For example, you are looking for a supplier, you have found a suitable product, and then questions arise:
how much will the logistics cost?
who will be able to freight this cargo?
How long will the transportation take?
and others
And often in order to make elementary calculations of cargo transportation, if you are a buyer (recipient of cargo) you need to know many details, including the dimensions and quantity of packaging, the quantity of goods in one package, the type of cargo transportation, the place of shipment, and so on, since this data will be required by forwarders and transport companies for their calculations. And for this you need to contact the supplier, find out all these details. And it can take from several hours to several days, or even weeks, just to find out this information and agree on the details.
Now imagine that you go to an electronic trading platform, find a suitable product that you want to buy in bulk and a suitable supplier and can independently obtain the necessary data about this product and cargo transportation without consulting the supplier and calculate the delivery to your city in just a few clicks? Would that be great?
And if you are a wholesale supplier who wants to increase sales and service speed to your customers by not having to specify packaging details, size, weight and the like every time to calculate delivery. What if your clients can do it quickly without you, just by clicking on a few buttons.
Qoovee.com Trading Platform and Qoovee Logistics Service help to solve this problem.
How can you do that if you're a buyer?
1. Go to Qoovee.com
2. Find the right goods
3. On the page of a particular product, you will find the button "Get quotes for logistics", if the supplier has specified the necessary parameters, then a form will open for creating an application for calculating logistics, where most of the fields will already be filled in automatically. You just have to choose a delivery method and some other data (there are not many of them), after which your application will be processed by Qoovee Logistics partners, who will provide you with the best prices and delivery conditions.
How to do it if you are a supplier?
1. Add your company and products to Qoovee.com
2. Specify the dimensions of the package when adding the product by clicking on "Add quick logistics calculation"
3. A button "Get quotes for logistics" will appear on the card of your product, by clicking on it, a potential buyer will be able to quickly request a calculation of delivery to his city and using the Qoovee Logistics service will receive favorable prices and delivery conditions.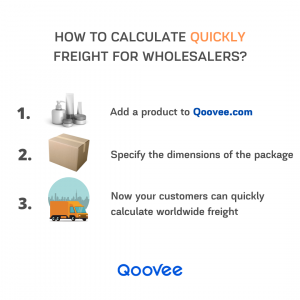 This service can significantly reduce the time to close a deal and thereby increase your sales.
If you are already registered as a supplier and added products to Qoovee, then simply enter your seller's account and add package sizes to your products in the "Store Management" – "Products" section. This feature is free.