Qoovee signed a memorandum with NAFL – the National Association of Freight Forwarders and Logistics Companies of the UAE.
Qoovee President Turat Bulembaev and NAFL President Nadia Abdul Aziz agreed on strategic cooperation aimed at developing trade between the UAE and other regions of the world, including the EAEU and the CIS.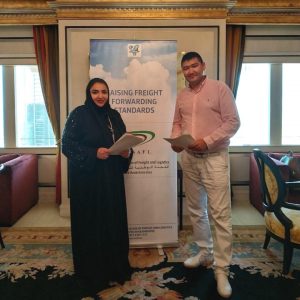 The parties also agreed to develop innovative logistics solutions for the entire region of the Middle East and other countries. New solutions in the field of logistics will allow suppliers and customers from different countries to increase trade and enter new markets.
One of the practical actions to implement the agreements between Qoovee and NAFL was the participation of NAFL President Mrs. Nadia Abdul Aziz at the Central Asia-UAE Business Meeting, where business, trade and logistics opportunities were presented. The event was attended by over 400 entrepreneurs from over 10 countries.
"We want to develop trade between countries through Qoovee.com" – Nadia Abdul Aziz (Dubai, UAE).