How to enter the Middle East market?
How to find partners and clients in this market?
How to promote your business in the Middle East?
Find out the answers to these and other questions and get to know the business community of the UAE, Turkey and other countries such as the Middle East and the CIS at a unique and the first meeting of the businesses from these regions in Dubai on March 9-10.
The international trading platform Qoovee.com in cooperation with Dubai Exports & Industries (Government of Dubai) invites owners and top managers of companies to the Middle East and CIS Business Meeting, which will be held during and as part of the  Dubai Expo 2020 (2021-22)
On March 9-10, 2022, hundreds of entrepreneurs from the UAE, Saudi Arabia, Turkey, Bahrain, Egypt, Russia, Kazakhstan, Uzbekistan, Kyrgyzstan and other CIS countries will meet in one hall in Dubai.
The main topics of the meeting:
— Entering the market of the Middle East and the CIS
— Networking
— Logistics. How to deliver goods all over the world through Dubai.
— B2B ecommerce, marketing and sales
And that's not all … there will also be a Business Tour of Dubai, where you can visit the key economic zones, government and commercial structures, where you will be able to see with your own eyes and get a practical information on entering this market and up to how and where to open a company, a warehouse, see how logistics are carried out and so on.
Our event is supported by the Government of Dubai and officials will be at the event presenting Dubai's opportunities as a hub and entry point to the Middle East market and exports around the world. First hand, you will be able to get comprehensive data on entering this powerful market, and of course Qoovee will collect the top market players and only useful and practical data on entering the Middle East market.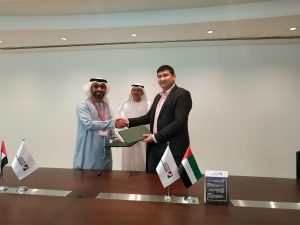 On the picture: Dubai Exports & Industries and Qoovee management. Signing an agreement for cooperation.
And of course, the business program will be diluted with a pleasant rest and a dinner in a unique place where visitors are Cristiano Ronaldo, the Prince of Dubai and other VIPs with a stunning view of Dubai, where the wildest dreams come true
Become a member of the Greatest Show and the largest business event of 2021!
▪️The participants of the event will also visit the Dubai Expo and receive many privileges.
Dubai Expo is a worldwide exhibition with 192 countries and over 25 million visitors.
Be with us at this Great event!
Invitation from the Government of Dubai to the Middle East-CIS Business Meeting (video recorded before the pandemic. The event was postponed to March 2022, but the invitation in the video is still valid)
---
Prices for offline participation:
Economy — $500/per person Included: participation in the Meeting, B2B meetings, 1 ticket to Dubai Expo, access to the directory of participants, placement in the directory of participants, $200 for promotion in Qoovee
Business – $ 1300/2 people. Includes the same as Economy + booth at the exhibition, participation in the Dubai Business Tour, advertising in the exhibitor directory, $500 for promotion in Qoovee and 2 tickets to Dubai Expo
VIP – $ 2500/2 people. Includes the same as in Business + 5 min. performance at the event, distribution of promotional materials to all participants, placement of the logo in all promotional materials, distribution of the CP among the participants and the Qoovee database, dinner in a unique place in Dubai with the management of Qoovee and other VIP participants of the event + $ 1000 for promotion in Qoovee
---
Prices for online participation:
Online participation (without participation in the exhibition) $100. Includes participation in live broadcast at the seminars of the event + access to video recordings of speeches
Online participation + participation in the exhibition 1000$. Participation in the live broadcast at the seminars of the event + access to video recordings of speeches is included. And also your products will be presented at the exhibition of the event and you will be able to advise the exhibitors live (online) + advertising in the catalog and access to the contacts of the event participants + $ 500 for promotion in Qoovee
---
Contacts:
Online chat on Qoovee.com
Direct on Qoovee_international on Instagram
Email: event@Qoovee.com
The official hashtag of the event is #menacis