The company is actively growing, having last preparations to launch a new version, new services and the development of the large-scale advertising campaign program.
Information, requirements for investors and what attracts their attention are presented in this article.
About Qoovee
Qoovee.com is an international online business platform, which includes a number of different services:
Developing:
Qoovee Mobile App – iOS and Android applications
Qoovee Services – platform for business services
All of the above projects work independently of each other, but meantime implement mutual attraction of clients and complement each other. All services have 4 language versions: English, Russian, Turkish, Uzbek. By the end of 2018, the platform will operate in 10 languages.
Qoovee has representative offices / partner offices in Russia, Turkey, UAE (Dubai), Uzbekistan, Kazakhstan, Kyrgyzstan and Bangladesh. It is planned to open offices in the US and China as well this year.
The basic idea of Qoovee: Your Business is in your pocket. All that is necessary for business is on one platform.
Mission: Bringing business and countries together
Principle: Win. Win. Win. Winnings and benefits for all parties of the platform. Thriving of Qoovee leads Business, Government and Society to win.
Launch date of the project: May 12, 2016.
Main stats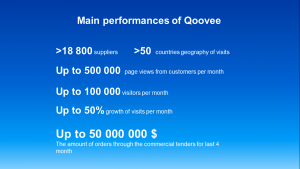 Geography of visits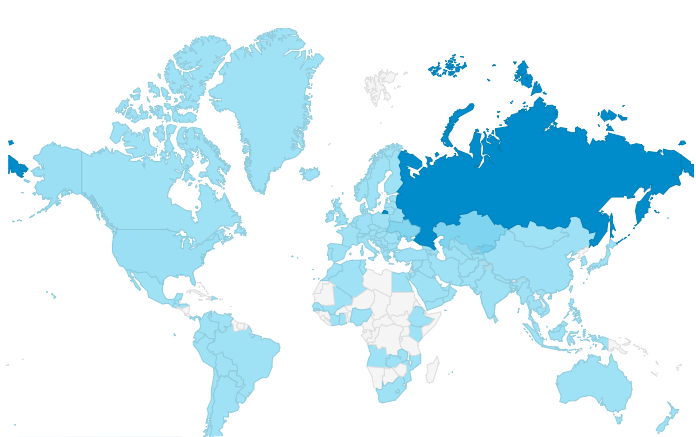 Different popular media write about Qoovee. Different government bodies cooperate with Qoovee :
Plans of Qoovee in terms of stats:
Reach 100 000 number of  companies on the platform by the end of 2018.
Get regularly 1 million visits per month by the end of 2018.
Become one of the top 50 000 sites worldwide by the end of 2018.
Growth of the company's value 5-10 times within 2 years.
Required criteria for an investor:
Valuable moral and ethical qualities
Fostering the growth of the company not only by financing
Investors with extensive network / client bases on the international arena take precedence
The minimum investment amount is 250 000 $
Experience, knowledge and understanding the specifics of the main project's activities
This round of investments has a limited time and the amount involved. In case of  suitable candidates invest all the necessary amount the round will be closed before the application deadline.
The investor's applications should be submited within this form. After the approval of the application, the candidate will be contacted by qualified specialists or the company's top executives. Applications are accepted until April 2.