The 2020 pandemic and crisis accelerated the process of transforming businesses to online. Offline fairs and EXPOs have been canceled around the world. States have imposed restrictions on massive offline events. Obviously, the era of online trade exhibitions and e-commerce has come. And in fact, the Great transformation of Business to Online began.
Leading experts of the world say that the world will no longer be the same. Understanding that the basis of public life and employment is business and its jobs, you need to understand what will happen to business in the near future, especially with such an industry as Exhibitions.
Virtual country pavilions, electronic catalogs of products, 3D demonstrations and augmented reality, online sessions of speakers and video conferences – all this is no longer a tribute to fashion and trends. This has become a MUST and, in fact, the only way to show oneself to the world in the context of the limitations associated with the pandemic.
All this is being actively embodied at the World Online Exhibition of Global Online Expo , which the international business community and countries decided to organize as an alternative to offline exhibitions. This format, on the contrary, facilitates the entry into the market of more Large enterprises and SMEs than could be done at offline exhibitions.
Previously, in order to participate in an exhibition of medium or high level, you had to pay from $ 2000 to $ 6000 for a small stand that will stay there for a couple of days, but now it has become much easier for small and medium-sized businesses to promote themselves and demonstrate their products in unlimited quantities 24 hours a day and 7 days a week.
What is Global Online Expo?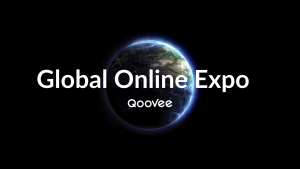 GLOBAL ONLINE EXPO is an online B2B exhibition where hundreds of thousands of companies from over 100 countries present their products and services, abilities and innovations. Each country has its own virtual pavilion and online catalogs of suppliers, products and services.  The Expo is based on Qoovee.com B2B marketplace.
Global Online Expo is actually a platform of online exhibitions in various fields and sectors. So, the platform hosts fairs such as:
Clothing and Textile Online Fair – Online TEXEXPO
Medical Products Online Fair – Online MEDEXPO
Food Online Fair – Online FOODEXPO
and others
Who supports the Global Online Expo?