Here is a review from DANA, a baby carrier supplier, on how they became a verified supplier on Qoovee, closed a deal, and are exporting to different countries:
We would like to express our gratitude to Qoovee.com for giving us the opportunity to enter the foreign market, find customers from different countries. From the first days of the trial replenishment of the balance (payment for promotion on Qoovee), we began to receive requests from potential customers. We made a deal with one of them. After that, we received the status of a verified supplier and began to receive requests from customers from all over the world.
I really like the support on Qoovee.com: they answer in time, help, ask if they could figure everything out, share the secrets of promotion. A very convenient platform where everyone can orientate and understand.
Kalilova Aidana, Director of DANA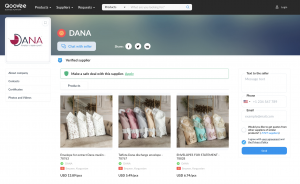 Every day, thousands of suppliers and buyers from different countries find each other and make profitable deals on the international trading platform Qoovee.com. If you are a supplier, you can become a verified supplier on Qoovee just like DANA, thereby increasing the credibility of your company, climbing to the top of search results and catalogs on Qoovee, and attract more wholesale buyers and make profitable deals.
You can also buy in bulk on Qoovee and for this you can quickly create a purchase request and get many offers from different suppliers in your industry and choose the best option. This saves time and money for the buyer as this sourcing feature is free.