Tired of paying for clicks and views?
You're not getting the performance you need from social media ads. and advertising platforms?
Looking for a way to attract wholesale buyers in a more efficient way?
Use promotion on the Qoovee wholesale trading platform like 
DANA
, 
A&D Shop
, 
Limoko
, 
MGS GROUP
 (Boris Becker – TM), 
S&A
, 
Global Yoors
, 
Pafim
 and thousands of other suppliers do!
✅ Promotion on the Qoovee.com wholesale marketplace works according to the PAY FOR RESULTS system.
That is, it is not the placement on the site itself that is paid. You pay only for the RESULT obtained as a result of using the Qoovee platform – for the REQUESTS received from buyers. That is, you do NOT pay for views, clicks or impressions.
Money for promotion is replenished to your balance. Further, these funds are written off from the balance upon receipt of REQUESTS from potential customers.
---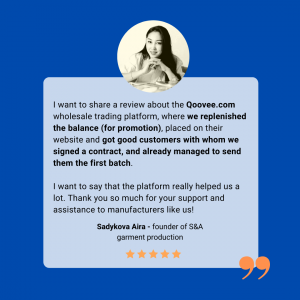 ---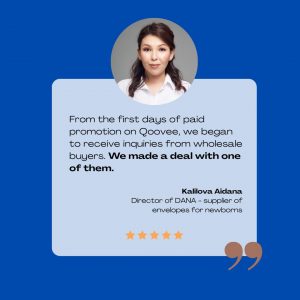 ---
But having money on the balance sheet also provides a number of important advantages:
🔹 Priority promotion in top positions in Qoovee catalogs. Thousands of wholesalers from different countries see your products
🔹 Access to at least 50 or more requests from wholesale buyers as a bonus, depending on the selected package. That is, money is not debited from your balance for them.
🔹 The ability to get the status of "Verified Supplier" which will significantly increase the trust in you from wholesalers and increase the number of requests
🔹 Your company, products and services appear at the top of the search results in Qoovee
🔹 Your contacts become available to buyers. Contacts of your competitors who do not have a balance are not available for viewing
🔹 Money is debited from the balance only for requests and requests for your contacts from customers. You yourself set the amount of how much to pay for requests.
What are the exact steps to start promoting on Qoovee?
1️⃣ Add your company to Qoovee and an online store is automatically created for you
2️⃣ Add your products
3️⃣ Top up your balance and the promotion of your goods and company among a large audience of wholesalers begins.
Promote your business and products to wholesalers on Qoovee.com
Start now!