For What do people want to pay on the internet?
You probably know that today on leading online sites people mainly pay for clicks, views, ad impressions and raising goods / services to top positions in the feed.
Such a model is really more effective than offline advertising, the effectiveness of which is difficult to measure. But there are obvious disadvantages of modern online marketing, and here are some of them:
Possible cheat views / clicks
Possible random clicks / views
Payment is charged for clicks / views and it doesn't matter whether customers leave request or not
It is impossible to learn who clicked /  viewed, there are no contact details of potential customer for feedback
We decided to find out for what advertisers really want to pay while promoting on the Internet. Here are the results of a survey held among more than 500 entrepreneurs from more than 10 countries:
What do you want to pay for while promoting on the Internet?
For clicks on ads – 6 %
For customers' requests – 94 %
And after the survey, the international B2B platform of Qoovee.com launched a completely new and fair promotion system for suppliers of goods and services from around the world.
On the Qoovee.com business platform, (where people from different countries sell and buy goods in bulk), suppliers pay for real requests, not for clicks and views. In this case, a supplier sets the rate of how much to pay for incoming requests of customers. Suppliers can pay any rate per request they want . The higher the rate, the more chances to attract requests. And these amounts are deducted from his balance only once you get a request from a client.
Start your promotion on Qoovee right now – pay only on the result!
Why  it is important for Qoovee to attract real requests for its customers?
If a supplier does not get real requests and does not feel the positive effect from the promotion, probably will not  continue to top up the balance. Qoovee is interested in constantly topping ups  of suppliers' balances, and this is possible only if the suppliers get good result.
And therefore, supplier also has access to contact details of one who left a request and can always contact. Thus, Qoovee created the most fair conditions for cooperation and promotion on the site. And here are the reviews of some suppliers using this promotion system: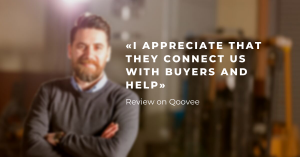 "I appreciate that the Qoovee platform's customer service team is always there with customers, connects us with buyers when needed and help. And most importantly, everything is quickly resolved without bureaucracy. We have topped up our balance (for promotion)! Thank you"
Grigoryan Isak Isakovich
Everest-StarM LLC (brand Igris)
Founder / Director
Note: Turn on subtitles in English (61 sec.)
"Hi! My name is Aira. I am the founder of the garment production factory of S&A. We produce women's clothing. 
I would like to share my review of the wholesale trade platform of Qoovee.com. We have registered on the platform and topped up our account balance. And found unique buyers, signed agreements with them. And even have sent the first batch of their orders The platform really has helped us. Thank you very much for such support and aid for local manufacturers like us."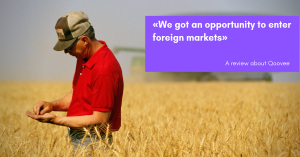 "I express my deep thanks to the team of the Qoovee.com B2B marketplace for its'  modern approach and expertise in e-commerce. Once I topped up my balance (for promotion), we got the opportunity to enter foreign markets. The promotion system on Qoovee.com is on the top-level 100 %. "
Sincerely yours, Taukenov Nazymbek Mukanovich
Director of  "Wide Trading LTD" (Kazakhstan, Supplier of agricultural products)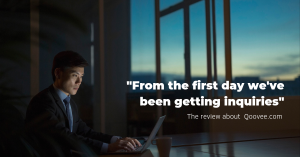 "I want to thank the Qoovee team for the platform they have built. This is a unique place where people can realize their business interests. On the first day, I topped up my balance for a trial $ 100 and have started receiving requests and inquiries from potential buyers. It is worth mentioning the feedback I got from the support service, this is really high-level support, they helped me in the first stage in many questions, and this is very important for everyone, especially at the initial stage. It seems to me and I very much hope that with this approach, the platform will keep developing and never lose its customers. I recommend and will recommend Qoovee to anyone who intends to establish bulk sales. Thanks, Qoovee!"
Sadykov Syrgak, head of S & A garment production factory. Link to the S & A store on Qoovee
Start your promotion on Qoovee right now – pay only on the result!