Modern and in-demand business on a turn-key basis. Become an official Qoovee dealer in your region.
Qoovee.com is a global e-commerce B2B platform for wholesale trade and business services with company catalogs of each country. A meeting place for buyers and suppliers of products and services , and a united B2B platform particularly of Russia, the CIS, Asia, Europe and other regions of the world.
To date, the supplier database of Qoovee has more than 18.400 companies from 80 countries. Tens of thousands of wholesale buyers visit the site everyday. Find out more about Qoovee products and services here: What is Qoovee.com? Advantages and Benefits
Outcomes and achievements of Qoovee
There are more than 18.400 supplier companies from 80 countries on the platform
Tens of thousands of wholesale buyers and customers visit the site every month
Over 1,100 tenders have been created on the Qoovee platform
Qoovee takes leading positions in Google and Yandex, for such key queries as: the manufacturer database, the supplier database, the CIS Trading Platform (EAEU), etc.
Qoovee has become a trusted member of the international payment system
Ministry of Commerce of the PRC published news about Qoovee.com
Qoovee and the ministers of the EAEU countries discuss the development of e-commerce together
Why it is beneficial to cooperate with us?
Our field is  e-commerce – the fastest growing field in the economy of many countries worldwide
We work in B2B sector (business sells to business) – highly profitable sector and solvent audience
We develop up-to-date products and services that are in demand in the market and the demand for them is rapidly growing
You get a ready-made business "on a turn-key basis" with minimal investments
High-profit business. Our dealers and agents receive up to 50% of turnover
We are interested in your success. Therefore, we provide training for dealers and agents in sales, marketing, business management, etc. Besides, we  provide constant technical and business support
We constantly leverage our products and control the quality
You become a part of the global Qoovee network. Promotion of the brand and products takes place in different countries of the world ,which increases company awareness
Your customers can use Qoovee to export, import and trade within your region as well
You do not need to deal with the client technical support
No need to maintain a programming team
You do not need to keep a warehouse, a large office space, rent retail space, buy goods, carry out logistics, as in traditional business
Our product does not spoil, expire and may be sold 24 hours a day, 365 days a year without physical participation – online
You get ready history of the company, ready brand and product
Qoovee Business grows even in a stagnant market
You minimize risks working with us. We have ready products and services. Ready sales and promotion system. The business processes are adjusted, instructions are written. You do not need to create it all from scratch, as in a usual business
Qoovee solutions lead you to unite and assist in developing the business and economy of your country, thereby making a great contribution to the development of society. Such a mission definitely gets support from society and the government
What does dealer sell?
The dealer and his/her team sell Qoovee service packages, which include:
Wholesale online store
Placement on the suppliers catalog
Placement on the products catalog
Advantages of taking a place on Qoovee.com for the supplier:
Constantly growing traffic on the site: tens of thousands of wholesaler customers per month
Ready online store with many functions
Ready SEO optimization (to attract visitors from Yandex and Google)
Placement in the suppliers catalog of Russia, CIS and the World
Participation in the commercial tenders
Search for partners, dealers and sales representatives in different regions of Russia, CIS and the world
Access to the supplier database
Customer support and much more
Dealer tasks
Recruit sales managers and organize their work
Sell Qoovee service packages using a variety of online / offline promotion tools
To get training from representatives of the main offıce of Qoovee company
Represent the interests of the company in your region
Ways to promote the paid Qoovee packages
Offline promotion
Telemarketing
Active sales
Meetings, negotiations
Participation in exhibitions
Participation in thematic events, where the target client base gather (business conferences, seminars, etc.)
Membership in associations, clubs, unions, Chambers of Commerce and Industry, associations, etc.
Producing of united service packages with Partners (non-competing companies operating in the B2B segment can offer Qoovee packages to their customers in addition to their services)
And many other ways, about which ,we will tell personally
Online promotion
Contextual advertising on Google and Yandex
Advertising in social. networks Facebook, VK, etc.
Email marketing
Advertising on thematic sites, platforms
Participation in thematic events, where the target client base gather (business conferences, seminars, etc.)
Webinars
And other ways about which we will tell in personally
Dealer's revenue
50% from the cost of the sold package of services to new customers
30% from repeat sales
Additional bonuses according to the results of each month
The partnership scheme
A dealer concludes an agreement with the client and sends it to the Qoovee maintenance department of the existing customers. Payments on concluded agreements are trasfered once a week by bank. By the end of the month, additional bonuses for achieving planned results are possible.
How much can a Qoovee dealer earn?
The example below shows the presence of 3 managers at the dealer who are actively selling. Thanks to the system of recruiting managers, which exists in Qoovee, the Dealer can constantly expand the number of managers. And the Dealer's earnings can be higher accordingly.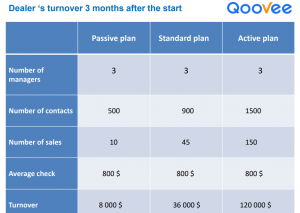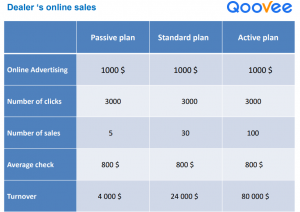 What dealer gets?
 business "on a turn-key basis" :
Online training, methodical materials, webinars
Meetings of dealers in different cities of the World (conferences, parties)
A personal manager who is responsible for your success and helps you on all matters
The right to use the Qoovee logo
Fully described business processes and successful actions that lead to results
Access to a special CRM-system for simplification of business
Marketing support, development of advertising materials for your needs and activities
How to become our Dealer :
It is necessary to meet requirements:
The experience of creating your business or the experience of the director of sales department
Legal entity(Ltd, Individual entrepreneur)
Steps:
Application form
Acquaintance, interview
Coordination of the business plan for at least one year
Taking training course for Dealers
Attestation
Conclusion of the Cooperation Agreement
The period from the submission of an application to the conclusion of a contract is on average 3-4 weeks