On the Qoovee.com B2B marketplace, large companies, SMEs, individual entrepreneurs make their procurements and hold tenders for their businesses. The buyer can create a request for quotation or send a  request to a supplier for free. The requests for quotation are published in the Order feed on the platform. Personal requests sent to suppliers are not published in the Order feed and they are not public.
Suppliers from all over the world participate in tenders and provide appropriate delivery conditions. Today, more than 26,000 suppliers from more than 80 countries of the world are represented on the platform.  The number of purchases and sales is constantly increasing
How to create a request for quotation?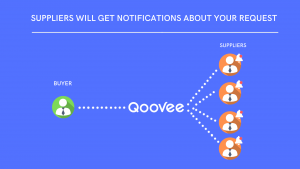 1. Step
Create a request on Qoovee. Mention a detailed description of the product you are looking for. Provide your contact information.
2. Step
Your request will be sent to different suppliers in Qoovee that match the requested category. Suppliers will receive notifications.
3. Step
You will start receiving offers.
Get started now. Create a request and receive many offers.
In addition, the Qoovee.com platform can be the guarantor of the agreement.
Qoovee guarantees the agreed quality and on time delivery of the goods  to the buyer . If the quality of the product or the date of shipment differs from what the buyer and supplier agreed, Qoovee will help you find the best solution for all parties or return the money to the buyer.
The supplier get guarantee of a 100% payment  after the delivery is completed and the terms of the agreement are fulfilled, because 100% prepayment will be in the Qoovee transit account until the parties complete the agreement. Learn more about Qoovee's deal protection.