It is possible to find customers from other countries only online  when offline promotion is almost stopped. Qoovee.com has been the savior platform for thousands of suppliers and wholesale buyers looking for suppliers from different countries.
During quarantine, traffic on Qoovee increased, and the number of visitors increased compared to both suppliers and buyers.
We present some comments of platform users who got good results during quarantine: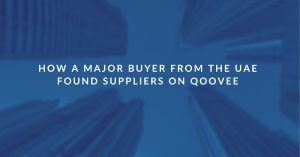 I thank Ms. Mairam (representative of Qoovee), through whom I learned about the Qoovee business platform, and Mr. Nurlan (representative of the export agency of Kyrgyzstan) and I would like to briefly share my experience.
Recently I was looking for suppliers and the Qoovee team helped me find exporters from Kyrgyzstan, Armenia, etc. I received a link of Qoovee, registered in a maximum of 2-3 minutes. After that, I entered the name of the product, and then the site gave me the opportunity to choose suppliers with similar content, which greatly simplified my work. Because I could view the profiles of all companies and contact them for a short period of time. I found this very useful, and I think that if all companies post their profiles there, it will be a great achievement for everyone.
The Qoovee team has connected us with suppliers from Kyrgyzstan and Armenia. And I was able to successfully conclude a deal with more than 5 companies.
I highly recommend the Qoovee Business Platform for people who want to find exporters and importers for various types of products. As I mentioned earlier, the site shows profiles of different companies, and it makes your life easier …
Aida T.
Representative of Bedaya General Trading (Dubai, UAE) 
---
Hello, my name is Abykeeva Zhyldyz.
We have been providing clothing manufacturing services for 10 years. We started publishing our own collection. I heard about Qoovee company a long time ago. But I did not dare to promote there…
Finally I decided to work on the platform and was not mistaken in my choice.
I found a buyer… And I recommend you too…
---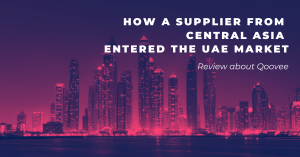 LLC Advanteks (Oimo Foods) made the first commercial supply of extra-wild Kyrgyz walnuts to Bedaya General Trading based in Dubai.
After two weeks from the date of delivery, we receive positive feedback from our partners, and intentions to continue cooperation and increase supply.
We should note that these communications were created with the assistance of the Qoovee.com trading platform and the Investment Protection Agency of the Kyrgyz Republic. This is a convincing example of when each market player played his own role perfectly. We thank the management of Qoovee.com and the Investment Agency of the Kyrgyz Republic  for their assistance and all support in this matter.
We hope to deepen our relations.
Sincerely,
Maksat Torobekov
Commercial Director
Oimo foods
Oimo Foods Store at Qoovee qoovee.com/advantex 
---
"In addition to the contract we reached with the buyer a few days ago, I found more customers, so I think your site is honest and accurate. The needs of the suppliers are fully met. Honestly, I didn't use it for free. I uploaded a balance for the promotion (promotion system), I paid because I trust the platform "
Ladygina Olesya. Bravo Garment Factory Representative
Find suppliers from different countries by creating just one request. Find suppliers.
Sell on Qoovee and enter the international market. Sell on Qoovee.
See more Qoovee success stories and reviews here.
Qoovee is an official partner of the Government of Dubai (represented by Dubai Exports) in international trade. The agreement is signed in Dubai. Read more about this here. Also note: the World Online Exhibition Global Online Expo is held in the world, where hundreds of countries are represented by tens of thousands of suppliers.